Luxury Hotels In Sacramento
Sacramento is the capital city of California and home to many luxurious hotels. These hotels are the best of the best, offering affordable rooms, a relaxing environment, and one-of-a-kind customer service. Keep reading on for the best luxury hotels in Sacramento.
Luxury Hotels In Sacramento
The Citizen
This 196-room boutique hotel wears the government-city badge with pride. Political cartoons from the Sacramento Bee's archives adorn the walls, and pompous quotes greet you at the elevator: 'It is dangerous to be right when the government is wrong,' quoth Voltaire. Inside The Citizen, decor is stately and classic, while the small rooms are cozy, with a truly boutique vibe and views of Cesar Chavez Plaza. The Grange beside the lobby is among the top fine-dining restaurants in the city, with daring mise en place and flavor combinations.
Inn & Spa at Parkside
This hotel not only has a spa that offers massages and body and facial treatments but endless amenities. There are concierge services, luxury robes, jacuzzi tubs, balconies, gourmet multi-course breakfasts, tranquil meditation, complimentary social hour, high-speed internet access, and more. This spot is also convenient because it's the closest luxury hotel to Sacramento International Airport. There are plenty of rooms to choose from, from dream to lounge to destiny. The building was built in 1936 for Mr and Mrs Fong and their children. After several ownerships, it was bought and transformed into a bed and breakfast. The Parkside Villa opened in 2007 and has gained recognition for its wonderful lodging experience.
Kimpton Sawyer
Located next to the new Golden 1 Center indoor/outdoor arena at the Downtown Commons, The Kimpton Sawyer Hotel is a sophisticated addition to the Sacramento hotel scene. This modern property features a pool deck on the third floor overlooking the arena and a lively Revival lounge on the rooftop, perfect for hanging out with fellow travelers as you take in views of the skyline.
The 250 guest rooms are chic and stylish, with shades of gray and Nevada brown, and come with sliding doors that double as mirrors to the bathrooms. The hotel has a Kimpton Kids Program and is pet-friendly.
The Sterling Hotel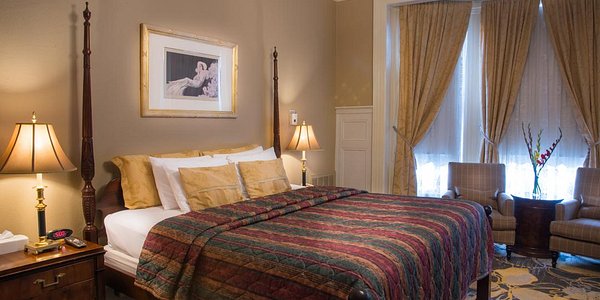 This hotel is beautiful and hosts 16 unique rooms with great amenities, a front porch, and a graceful ballroom. The hotel is perfect for meetings, gatherings, and other events, as well as the perfect place to spend a night away from work. This hotel is also great because of its prime location in downtown Sacramento, which allows easy access to many of the city's hot spots. Within walking distance from the hotel, there are expos at the Sacramento Convention Center, live theater shows at Music Circus or Broadway Sacramento and historic sites such as The Governor's Mansion. There are also nightclubs and bars such as the Shady Lady. Sterling Hotel has amazing staff members. The concierge is more than happy to help you find the best places to hang day or night.
In the center of walkable Midtown, this bed & breakfast has revived two historical homes, a 1895 colonial revival and a 1905 craftsman, into a quaint experience. Inside the Amber House Inn, the living room has homey details and Arts & Crafts decor, without being overly fussy like some other B&Bs. The rooms are named after musicians and poets, such as Emily Dickinson, Longfellow and Bach, along with books and photos that maintain the theme. Jacuzzis, fireplaces and a two-course breakfast make it easy to unwind.
Hyatt Regency Sacramento
The recently renovated Hyatt Regency Sacramento is steps away from the Capitol building and next to the Sacramento Convention Center. This contemporary, pet friendly hotel features spacious rooms and suites, a 24-hour business center, full-service spa, fitness center, and three restaurants. The resort-style pool, with a hot tub and cabanas, is a highlight not to be missed. The rooms feature gold, red, and white accents and come with a full snack bar, flat-screen TVs, plush beds, coffee machines, and high speed Wi-Fi.
Best Western Plus Sutter House
This European-style hotel offers a beautiful decor, rooms and suites with lively colors, and plenty of space for visitors to relax. The hotel features plush king and queen beds, a micro fridge in every room, chairs, ottomans, work desks, coffee makers, TVs, and wifi. There are also patios with glass doors that lead to the pool. The hotel is just a few blocks from major shops, restaurants, museums, and other attractions.
Technically a motel because you drive up to your room, the Greens Hotel bills itself as a boutique hotel with its LCD TVs and Keurig coffeemakers for each guest. The design details are quirky, with chartreuse pillows, Edison bulbs lining the parking lot and enormous letters identifying your room in the industrial chrome two-floor building. It's located in a funky neighborhood beside an old-school diner, a local brewery, a delicious grilled cheese-and-coffee shop and an art gallery. Sometimes, a motel trumps a hotel.
Tags :
hotels
Sacramento
travel