Must-Visit Art Galleries In Ho Chi Minh City, Vietnam
Ho Chi Minh's art scene has rapidly evolved from a commercial art hub to an eclectic community of talented and unique contemporary artists. Galleries are crucial to promoting local artists and are often responsible for organizing events outside of classic exhibits to bring the artistic community together. Here are the must-visit art galleries in Ho Chi Minh city to catch a glimpse of the incredible talent within this dynamic city.
Must-Visit Art Galleries In Ho Chi Minh City, Vietnam
Lotus Gallery
This gallery, located in the heart of District 1, makes clever use of its long, narrow interior by placing art work on sliding panels to reveal several paintings underneath. The gallery owners are friendly and informative and will gladly provide details of each piece, as well as a brief history of several artists hailing from all over the country. This private gallery has operated since the '90s and also features a range of works from portrait style canvas paintings to contemporary pieces.
100 Nam Kỳ Khởi Nghĩa, Ben Nghe, 1 Ho Chi Minh, Vietnam
Galerie Quynh
Art galleries come and go. Hardly any galleries in Saigon have stood the test of time, but not Galerie Quynh. For the past 10 years, it's been the venue for many well-received exhibitions from acclaimed artists, and possibly one of the most commercially successful galleries in Vietnam. Quynh, the Founder, has been in Vietnam for around a decade, and she's cut her teeth in the early days of Vietnam's art scene. She has particular insight into where Vietnamese artists are headed next, and travels worldwide bringing rising artists around the world to Vietnam.
Galerie Quynh – 151/3 Dong Khoi Street, 2nd Floor, District 1, Ho Chi Minh City
San Art
San Art is the place to be for young artists. Being the usual rendezvous for art aficionados, it provides young artists with an opportunity to showcase their work to national and international partners. San Art is among the most active non-profit art organizations in Vietnam, forming a connection between contemporary art and our generation. While you're there, check out 'San Art Laboratory', a studio and residency program, which aims to promote and support young talents.
San Art – 48/7 Me Linh, District Binh Thanh, Ho Chi Minh City
Saigon Outcast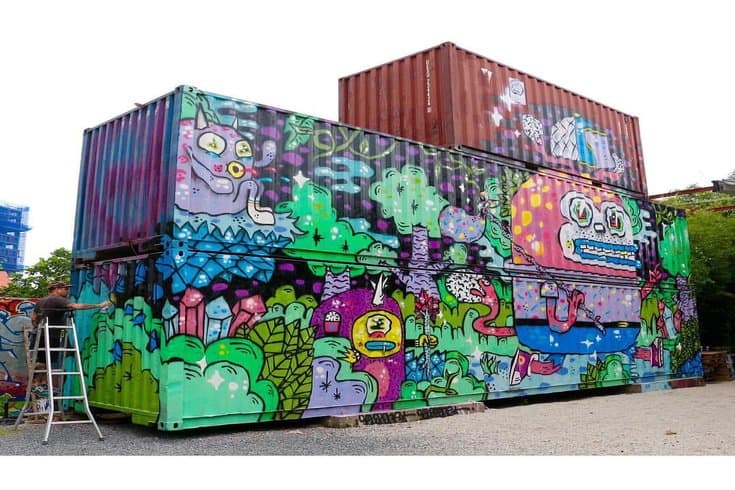 Saigon Outcast describes itself as a 'creative space, magical craft beer garden and graffiti paradise'. This events venue hosts everything from rock climbing and movie evenings to life-drawing classes and acoustic nights. One of the most striking things about Saigon Outcast, though, is the graffiti covering many of the surfaces. This place has some of the most impressive wall art in the city.
188/1 Nguyễn Văn Hưởng, Thành phố Hồ Chí Minh, 70000, Vietnam
3A Station
A hotspot for Gen Y, 3A Station is a newly revamped art and shopping space. Once known for its rustic walls of French architecture, the zone is now decorated with expressive graffiti and street art by the most prominent artists in the area. The space also features an extensive gallery of more than 100 contemporary paintings. Look out for boutique fashion, niche coffee shops,m and a plethora of interesting projects here.
3A Station – Ton Duc Thang Street, Ben Nghe ward, District 1, Ho Chi Minh City
Craig Thomas gallery
Apricot gallery
Duc Minh gallery
This expansive private art collection is one of the best in the country. Duc Minh was one of Vietnam's most important art collectors, saving pieces from potential destruction during the Vietnam war. His son, Bui Quoc Chi, has continued the family legacy by preserving the vast amount of pieces that range from from 1920–1990. The current collection has expanded to feature more contemporary works and occasionally, Quoc Chi offers guided tours. If you do find a tour date, grab it; tickets are a little pricey, but they sell out fast.
Tags :
Art Galleries
Ho Chi Minh city
Vietnam