The Best Street Foods In Vietnam
Street food is the heart and soul to many of the Southeast Asian countries and Vietnam is certainly one of them. Lining the streets you can find local markets, rustic food joints and rickety food carts with plastic tables and stools. Simple and uncomplicated food, these street foods in Vietnam will beckon your tastebuds and sneak their way into your heart.
The Best Street Foods In Vietnam
1. Pho (Rice noodle soup)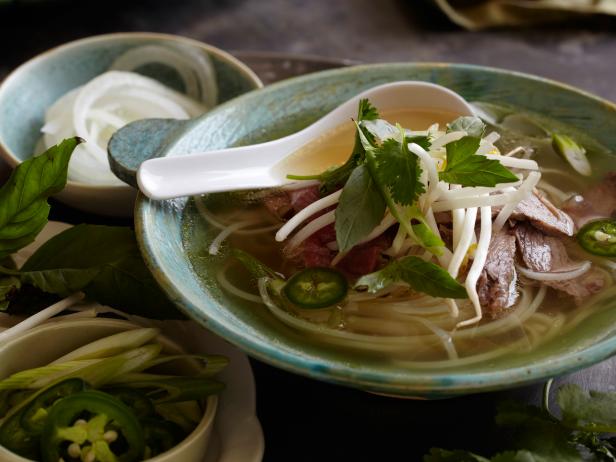 When it comes to street food in Vietnam, the most obvious choice would have to be Vietnamese noodle soup, phở. This local daily staple is made up of chewy rice noodles in piping hot savory broth with tender slices of beef or chicken and topped with crunchy, spicy, herby garnishes.
Definitely, nothing beats a good bowl of heartwarming rice noodle soup to start your day when you're in Vietnam. As iconic as it comes, you can explore hidden backstreets to discover the best spot to enjoy your phở on this 
motorbike food tour
.
2. Banh Mi (Vietnamese sandwich)
A portion of equally popular street food as the phở is the bánh mì, a Viet-style French baguette sandwich that has made a name for itself globally.
The crusty baguette is packed with pickled vegetables, coriander, fresh chili, cuts of meat – typically pork – and smeared with a coat of pâté. Other toppings can include egg, chicken, meatballs and more. Oh, how thankful are we that bánh mì can easily be found everywhere in the streets of Vietnam!
3. Banh Trang Tron (Rice paper salad)
If you're craving for a salad, you're either a health nut or it's because you miss the Vietnamese rice paper salad. The best way to describe this dish is an explosion of flavours in a bite!
It's prepared with strips of rice paper, variations of dried protein – beef jerky, squid, shrimp – and tart green mango, fresh mint, sweet basil and lastly, its signature spicy, sweet, sour dressing.
4. Oc (Sea snails)
A popular snack you can find in street food carts in Ho Chi Minh City is sea snails! Sometimes, you can even find yourself bumping into a snail restaurant with fresh snails and shellfish on display.
You can choose to have them cooked in various ways from fried to steamed, sauteed or grilled. These lil chewy, savoury snails are great for sharing with a few buddies over some icy cold beer!
5. Banh Cuon (Stuffed pancake)
Another very delicious street food in Vietnam is Banh Cuon, which the locals can eat three meals a day as the main dish. Banh Cuon is a dish made from rice flour into very-thin slides like paper before stuffing with finely-chopped pork and stir-fried finely-chopped wood ear like the spring roll, sprinkling golden brown dried onion dusted on top, and eating with typical sauce. The batter of Banh Cuon is made by husking rice until smooth, then blending with water. The most important part of this dish is the sauce having both spicy and sweet flavors. Besides, people usually eat with Cha (Vietnamese pork sausage) to improve the flavor of the dish.
6. Banh Goi (Fried Pillow Cake)
One of the best street foods in Vietnam, Banh Goi attracts guests at first sight for its lovely baby pillow shape and its colorful delicious sauce. Like most other cakes in Vietnam, we don't use oven mitts to bake cakes, Banh Goi is deep-fried to create a yellow skin that is delicious, crispy, and fragrant. The skin of Banh Goi is made by mixing water and rice flour at a perfect ratio. The inside is a mixture of chopped ingredients including glass noodles, wood ears, minced pork, and mushroom. Not less important is dipping sauce with a fine proportion of garlic, chili, sugar, lime juice, fish sauce, and water. Banh Goi is also served with some fresh herbs such as lettuce, coriander to reduce its oily taste.
7. Nem Ran – Cha Gio (Fried Spring Rolls)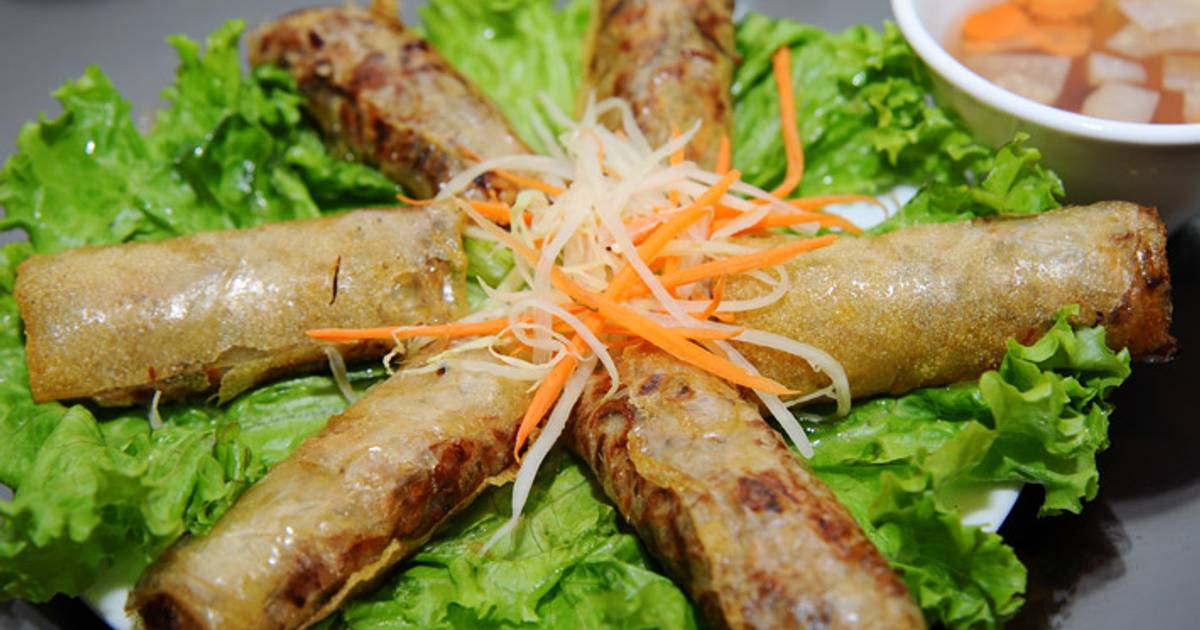 A very-favorite dish in Vietnam well-liked by most of the Vietnamese people in both regions that must be reminded is Nem Ran or Cha Gio (Fried Spring Rolls). So famous the dish is that it has appeared in many restaurants in a lot of countries in the world.
There are three important parts in Nem Ran including the wrapper, the stuffing, and the dipping sauce. The wrapper is made of rice flour rolled flat into the shape of the circle or square. The stuffing is normally a mixture of minced pork, egg, carrot, mien (a Vietnamese traditional noodle), wood ear mushroom, and herbs. Sometimes, people may replace minced pork with seafood such as shrimp or sea snail or beef, the difference in ingredients depends on the habit of the locals in each region. However, whichever they are, all ingredients are mixed thoroughly before being wrapped with rice paper into small rolls. These rolls are then deep-fried in boiling oil. The dipping sauce for this dish must meet the demand on the harmony of the combination of flavors including lemon juice, sugar, chili, pepper, and the fish sauce.
Tags :
foods
street foods
Vietnam