The Best Coffee Shops In Hoi An
Whether you opt for an espresso or a cà phê sữa đá – a specialty iced coffee with sweetened condensed milk – you'll find what you're looking for in Hội An. Read on to discover the best coffee shops in Hoi An, Vietnam's Yellow City.
The Best Coffee Shops In Hoi An
1. Reaching Out Tea House
Reaching Out Tea House is perhaps the prettiest and most interesting place on this list. Located along busy Tran Phu Street in the Ancient Town, they serve both coffee and tea which you're meant to enjoy in silence.
Reaching Out was started in 2000 by a group of physically impaired Vietnamese locals as a way of earning an independent living for themselves. It started off as a craft shop selling handmade homeware and jewelry before they opened this teahouse in 2012. It's managed by the speech and hearing impaired which is why you're encouraged to enjoy your coffee or tea in silence.
According to the description on their menu, the Reaching Out craft shop now employs and works with almost a hundred physically impaired artisans throughout the country.
2. Phin Coffee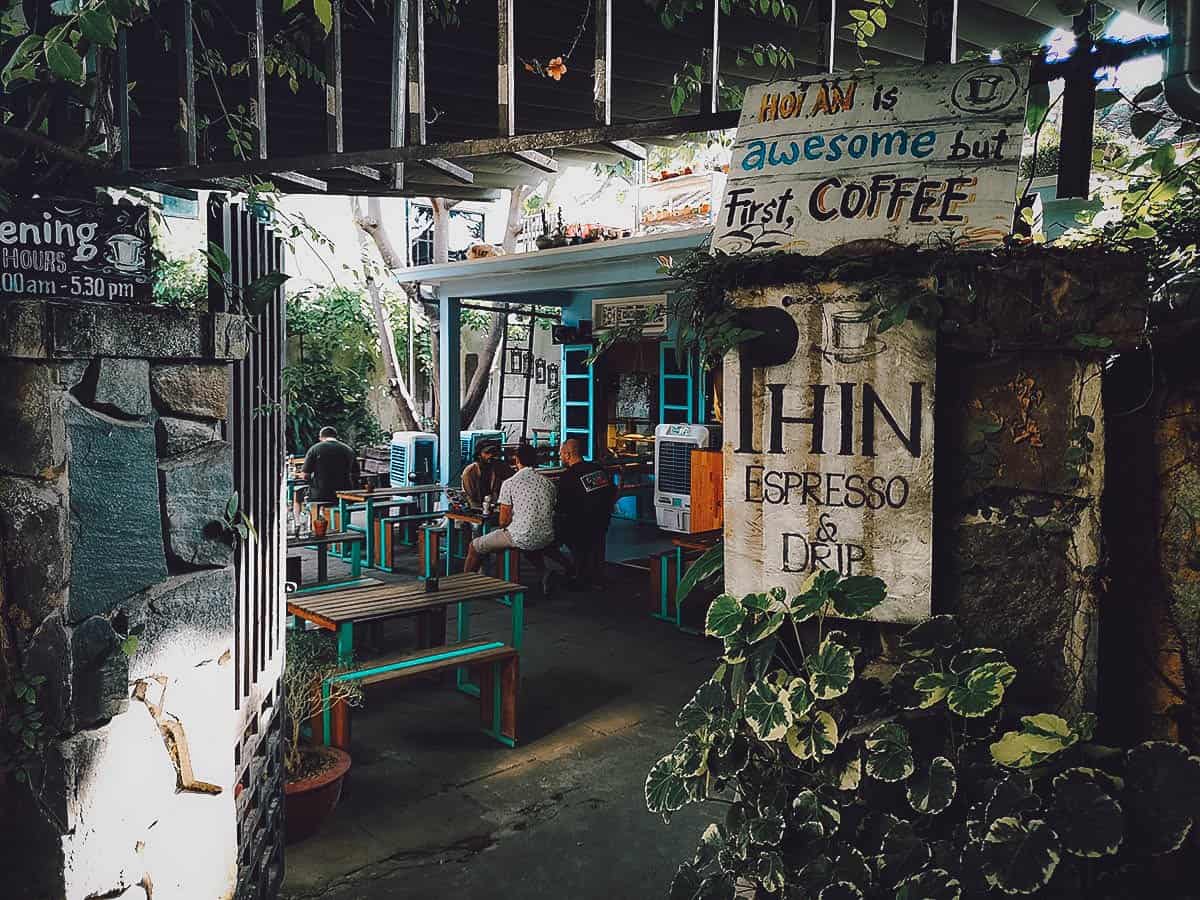 Down an alley filled with quiet, you will find Phin Coffee Hoi An. It's a cliché but this really is a little piece of rustic tranquility in the center of bustling Hoi An Old Town. Great coffee, spacious, wooden bench-seating in a vine-draped courtyard and winsome background music all combine to reset your batteries to Chilled. And, if you're interested in trying some of the new blends of coffee hitting the Hoi An scene, Phin's got some interesting ones: Peanut Butter Ice Blended Coffee and New Twist Coconut Egg Coffee.
132 / 7 Tran Phu
Away from the hustle and bustle of the main tourist drag you'll find Mia Coffee, one of the first Western-styled coffee shops in Hoi An. With its beautiful wrap-around veranda surrounded by jungle greenery, Mia continues to be the favorite meeting place for Hoi An locals by far. In a town that's now literally exploding with high quality coffee shops and chilled out venues, Mia's massive following is testament to its coffee (Dalat Arabica beans are  roasted on the premises).
20 Phan Boi Chau
4. Faifo Coffee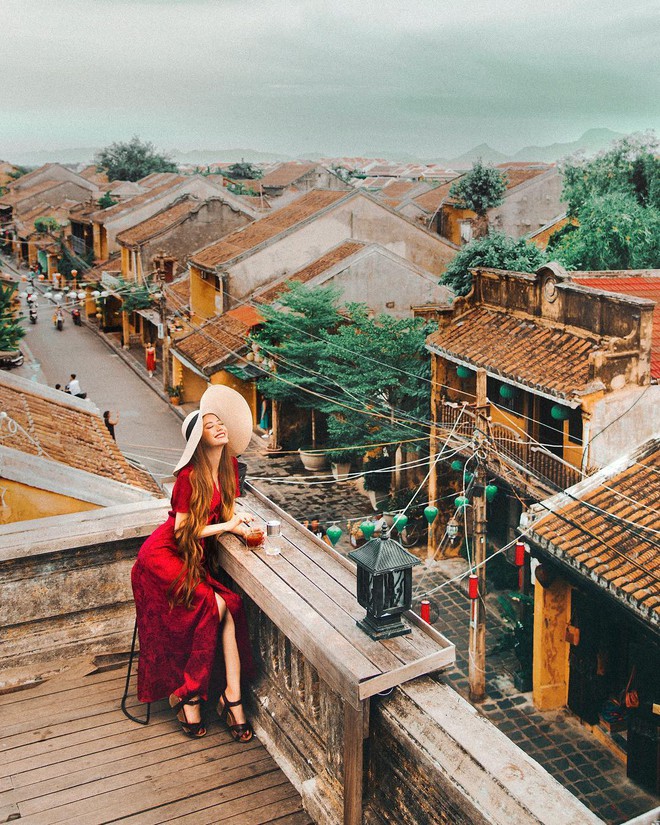 'Piping hot, strong and full of flavour': for some Hoi An locals Faifo Coffee is the place in town. Faifo Coffee roasts its Da Lat beans on the premises (and supplies many shops and resorts around Hoi An). But it's not just the coffee that's great. The tastefully-renovated ancient house towering three levels is exquisite and one of the most beautiful cafes in Hoi An. Some people go directly to a window seat on the ground floor while those into large, open, breezy relaxed and arty atmospheres go to the second. Meanwhile, only intrepid adventurers take on the Mount Everest climb up steep, heart-stopping stairs to the rooftop where they're rewarded with breath-taking views of the Old Town in a very pretty open-air setting.
130 Tran Phu
Does size matter to you? When it comes to coffee, it does to many. The Espresso Station is one of the best coffee shops in Hoi An which serves up a huge double-shot coffee that's enough to tempt most people back. Along with coffee standards you'll also find some of the more exotic coffees that seem to be popping up in cafes around Hoi An. There's Egg Coffee, Coconut Coffee, Pink Latte, Black Latte, even Coffee Ice Cubes, Cold Brew and more!  Tucked down a side lane, back from Tran Hung Dao, this little oasis far away from the madding crowd has become somewhat of a hipster hangout for many Hoi An locals.
28/2 Tran Hung Dao
6. Pure Vina Coffee
In addition to seven different Vietnamese coffees including Egg Coffee and Coconut Coffee, Pure Vina Coffee offers a fine selection of pure roasted coffees including Affogato, Mocha, Macchiato, Cappuccino, Espresso and many more. Blended coffee options are led by Macchiato (caramel, vanilla and hazelnut) and there are also hot and cold chocolate drinks and a complete range of fruit juices, smoothies, shakes and mocktails. Killer Coffee by Day, Classic Cocktails by night – it's easy to see why it made it to our list of the best cafes in Hoi An.
62 Nguyen Thai Hoc
7. Olivier Coffee
Presided over by a genial host who roasts his own beans and is always ready with local tips, this is another socially minded enterprise that trains local teens. But it's the brews that bring people back time and time again – whether it's the iced coconut coffee, espresso, traditional egg coffee or jasmine and ginger teas, to name just a few. There's rustic-meets-contemporary decor and a breeze-cooled balcony made for a laid-back vibe.
6 Hoàng Diệu
Tags :
coffee shops
drinks
Hoi an
Vietnam