Traditional Vietnamese Martial Arts
There is a long history of martial arts in Vietnam. Some are adaptations of similar styles from the region, while others are homegrown, developed by Vietnamese masters through years of study. Here are the traditional Vietnamese martial arts you should know.
Traditional Vietnamese Martial Arts
Ha Thanh group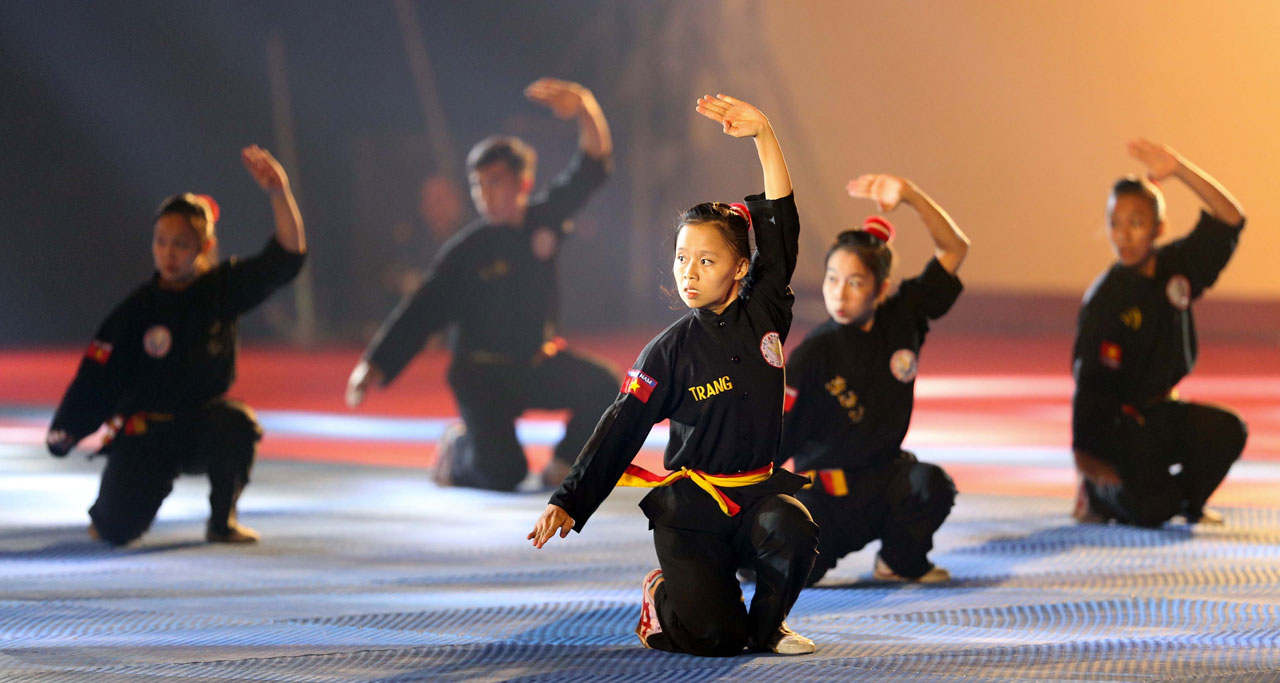 As the capital of many feudal Vietnamese dynasties, martial arts in Ha Thanh and neighboring provinces developed through "martial arts" competitions. Here formed many diverse martial arts, such as Thien Mon Dao, Thang Long Vo Dao, Nam Hong Son, Nhat Nam, Hoa Quyen, Thanh Phong Vo Dao, Viet Vo Dao … Masters Tran Tien, Tran Cong, Tran Hung Quang … are the famous names as the living proofs in the martial arts village of Ha Thanh.
In addition, Traditional Wrestling cannot be missed in the list, originating in Bac Ninh – Bac Giang (Kinh Bac), Ha Tay (Hanoi today), Hai Phong, Ha Nam… To this day, Vietnamese Traditional Wrestling contributed the famous wrestlers in the international arena such as Nguyen Thi Lua, Ha Van Hieu… Recently, at Sea Games 30 in Philippines, all 12 gold medals were gained by Vietnamese wrestlers.
Binh Dinh Group
Binh Dinh is the cradle of martial arts in the Central associated with the Tay Son Dynasty (1778-1802). In the 18th century, a number of famous masters from North Vietnam and China moved to settle in this area and taught martial arts to the local people. From then up to now, the Binh Dinh group includes many martial arts from Binh Dinh and the surrounding areas such as: Roi Thuan Truyen, An Thai, An Vinh and other forms of martial arts taught by families or masters such as Tay Son Nhan, Thanh Long martial arts, Binh Dinh Sa Long Cuong, Binh Dinh martial arts, Tan Son Bach Long, Tay Son Thieu Lam, Binh Dinh Gia, Tien Long Quyen Dao … Besides the martial land of Binh Dinh, the central provinces – Central Highlands are also the cradle of many unique traditional martial arts, such as Tan Khanh Ba Tra in Khanh Hoa, Tan Gia Quyen in Quang Ngai. A typical example of those who studied Tan Gia Quyen from the young age and successfully applied its techniques in Muay Thai competition, that is  Nguyen Tran Duy Nhat – a martial artist competing in the Muay Thai Flyweight in ONE Championship.
Vovinam
One of the traditional Vietnamese martial arts, this style employs a wide variety of techniques, including grappling, strikes, counter-attacks and the use of weapons. Võ Việt Nam is the most widely studied and practiced martial art in the country. It was created in 1938 by Nguyễn Lộc, who hoped that by teaching Vietnamese people how to fight, they would be better able to overthrow the colonial French.
Vietnamese wrestling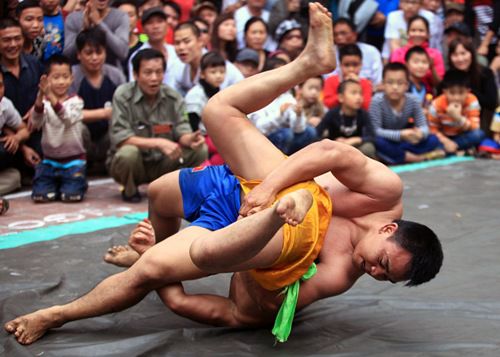 Traditional Vietnamese wrestling is an integral part of Tết celebrations in many rural areas. Competitors perform a dance to show respect and then try to take out their opponent with sweeps, grabs and takedowns. To win, you must either get your opponent belly up or remove both their feet from the ground. Like other forms of wrestling, no strikes are permitted. Some regions hold their Đấu Vật competitions on carpet, while others use sand.
Nhat Nam Martial Art
The Nhat Nam School has the longest history of all the Vietnamese traditional martial arts schools. It started in Thanh Hoa and Nghe An Provinces. Nguyen Tam Chinh, the founder of traditional wrestling in Vietnam, came from this region. Additionally, other famous generals from the region are Lady Trieu (225-248) and Duong Dinh Nghe (?-938), who led the rebels fighting against Chinese invaders. In three great wars against the Mongols (1258, 1285, and 1288), the Tran Dynasty (1225-1400) relied mainly on 100,000 soldiers from Thanh Hoa and Nghe An. Besides, many senior martial artists who served under the Posterior Le Dynasty (fifteenth to seventeenth centuries) also came from this region.
Sa Long Cuong
Sa Long Cuong branches off of Binh Dinh martial arts and has its roots in south-central Vietnam.
Founded in Saigon in 1964 by martial arts master Truong Thanh Dang, this discipline combines techniques from both Binh Dinh Gia and Shaolin martial arts.
Sa Long Cuong emphasizes unpredictable transformations and agility. Students are taught to combine different skills to create new attacks and overcome disadvantages.
This martial art also preaches the values of discipline and humility in all areas of life.
Tags :
sports
Traditional Vietnamese Martial Arts